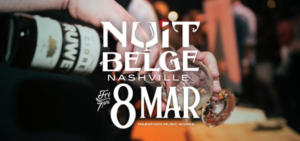 Nuit Belge is an upscale tasting event where some of the best restaurants pair some of the most delicious food with Belgian style beers from all over the world. This will be the first year we are participating in the event and we can't wait to hang out with you there.
To find out more about the event here: www.nuitbelge.com , follow the event on facebook,or purchase tickets at eventbrite
We will closed the restaurant for this event, but we will be opened for lunch that day and of course, we will post reminders closer to the event.
Hope to see you there!